Dr. Ryan Lorber
Veterinarian

Dr. Ryan Lorber has been practicing veterinary medicine for 11 years. He completed his Doctorate of Veterinary Medicine at Iowa State University in 2007. Originally a Cincinnati native, Dr. Lorber has been enjoying the California sunshine ever since graduating vet school. He originally practiced in Dana Point, and has been in San Diego for the last 6 years. Dr. Lorber has a special interest in dentistry. He believes in offering his patients a complete oral health assessment with each dental cleaning, to catch unseen problems and improve their quality of life. His other areas of clinical interest include: internal medicine, geriatric and preventative care. Dr. Lorber enjoys making strong relationships with his clients and their fur babies, and creating an environment that feels more like family than a vet office. In his free time Ryan enjoys running, trying new restaurants and visiting the World Famous San Diego Zoo. He shares his home with his young spunky domestic short hair, Lily, two chickens, Red and Harriet, and a handsome 7 year old poodle mix named Baxter. Fun Fact: As a good Cincinnati boy Dr. Lorber enjoys his chili 3 ways: chili, spaghetti and cheese.
---

Janine
RVT/Lead Technician

Janine has been serving as a registered veterinary technician in San Diego since 2012. She has worked in both general and specialty practices, but feels more at home in a general neighborhood practice. Janine grew up in the Ocean Beach neighborhood, where her parents still live. She attended UC San Diego and graduated with a major in Anthropology and a minor in History. After college she worked for a time as a hotel concierge. Janine eventually decided that she really wanted to work with animals and went back to school at San Diego Mesa College's Animal Health Technology program, graduating in 2012. Janine especially enjoys veterinary dentistry and focusing on good patient care. One of our resident crazy cat ladies, Janine shared her home with her two domestic shorthairs, Minky and Cookie, her rabbit, Violet and her husband, Juan.





---
Andrea
Practice Manager
A San Diego native, Andrea has been in the veterinary field for close to 20 years years. She has been with Helix Pet Hospital since late 2016. She believes strongly in making both pets and their owners feel at home and safe in the hospital. In her spare time Andrea enjoys crafting, home improvement and spending time with her family. Andrea shares her home with her husband, their 3 children, plus three cats, 2 bearded dragons, 2 geckos, a guinea pig and 4 chickens!

---
---
Monica
CSR/Veterinary assistant
Monica joined the team in 2022 after graduating from Pima.

Monica has always loved and cared for animals, as a young girl she always knew that this is the career field that was meant for her! On her free time she enjoys going on hikes and traveling to new places with amazing views!

She also loves spending time with her family and her fur baby

Pickles who she shares with her little sister.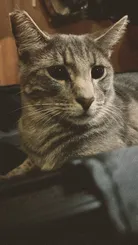 ---
Stephanie
CSR
Stephanie joined the team in October 2022, after taking a break from the veterinary field for some time, she was ready to get back to it!
---
Alex
Veterinary assistant
Alex joined our team in 2022, after completing her PIMA internship with us.
She's a SD native who really likes to draw and paint in her free time; and spend time with her three dogs; a Rottie named Stella, and two Chihuahuas, Baby, and Diamond.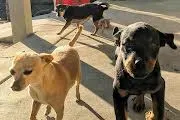 ---